Water, water, water everywhere…Wherever you look in Vancouver, you can see lots of streams, rivers, lakes, bays and straits. Of course, this is incredibly beautiful, but how to survive in such a beauty? Well, bridges connecting separate shores are the only salvation. 
Vancouver is the record holder in the number of bridges. There are about 20 ones in the whole city. Each of them is unique in its architecture, history and technical characteristics. So, let's check out 5 Most Spectacular of them…
1. Capilano Suspension Bridge
Capilano Bridge is a very unique sight of Vancouver. It's situated in amazingly beautiful area just a few dozen minutes' drive from the city. Capilano's length is 70 meters, and it's prostrated at an altitude of 137 meters above the mountain river, which is surrounded by dense thickets of the magnificent green forests.
Originally, the bridge was conceived as a way of accessing the sawmill, and initially it was really used only for this purpose. But in 1956 it was reconstructed, and since then the bridge has become a tourist attraction. In order to decide to set foot on the swinging bridge, you need to have a good stock of boldness – while crossing the bridge, even experienced travelers may feel scared.
After numerous reconstructions and strengthenings, Capilano Bridge has become completely safe and reliable. Nevertheless, when a heavy wind blows or if there are lots of people on the bridge, Capilano sways greatly, bringing visitors a huge dose of adrenaline.

Address: 3735 Capilano Rd
Coordinates: 49.342469, -123.113423
Opening hours: daily 9am-7pm
Admission: adult (17+) $38, youth (13-16) $25, child (6-12) $12, kiddie (under 6) free of charge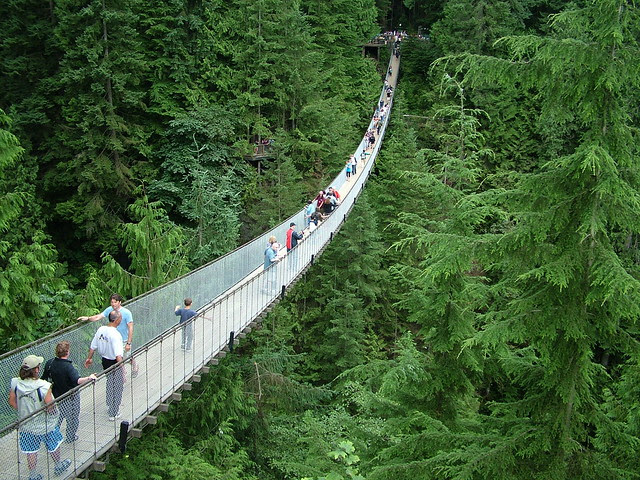 2. Lions Gate Bridge
Lions Gate Bridge crosses the Burrard Inlet Strait and connects West, North and Downtown parts of Vancouver. Lions Gate's total length is 1823meters, the length of its main span is 473 meters, and the height of the pylons is 111 meters. The bandwidth of the bridge is quite large. Every day around 60-70 thousands of vehicles go over it.
The whole construction is decorated with millions of illuminating lights, which makes it even more impressive and unique in the evening. The bridge offers stunning views of Vancouver, the bay and the delightful nature of the surrounding area.

Address: Lions Gate Bridge Rd
Coordinates: 49.315352, -123.138730
Admission: no
3. Golden Ears Bridge
Golden Ears was built in 2006-2009 across the Fraser River in order to connect 2 urban areas – Maple Ridge and Fort Langley. The total length of the bridge with its five spans (two of which are situated on the banks) is 2410 meters including approaches. The bridge is owned by TransLink Company and it's located at an altitude of 42 meters above the water level.
Golden Ears Bridge features 6 car lanes and a pedestrian area. It's considered to be the longest suspension bridge in the whole North America. The bridge is mounted on eight 90-meters high pylons located right in the river.

Address: Golden Ears Way
Coordinates: 49.196439, -122.665460
Admission: $4.20/vehicle
4. North Arm Bridge
North Arm Bridge was built in 2009 across the Fraser River and connects the Bridgeport station in Richmond and the Marine Drive station in the southern part of Vancouver.
The length of the North Arm Bridge is 562 meters, and it's used for the movement of trains only. The length of the main span is 180 meters; the bridge deck height is 25 meters and the highest tower elevation – 47 meters. The North Arm Bridge also features a pedestrian and cycling area.

Address: Canada Line Bikeway
Coordinates: 49.194404, -123.128282
Admission: no
5. Oak Street Bridge
Oak Street was built in 1957 and connects Richmond City and Marpole District of Vancouver.
The bridge's length is about 350 meters. It features four-lane vehicle, pedestrian and cycling areas. Oak Street Bridge consists of 3 spans – 61, 91 and 61 meters long. By the end of 1960 motorists had to pay the transport fee while driving over a bridge. In 1995, the Oak Street Bridge has been reconstructed, which increased its seismic stability.

Address: 9050 Oak St
Coordinates: 49.199817, -123.125706
Admission: no
As you see, every bridge in Vancouver is unique. So, if you like impressive engineering constructions, or just want to catch stunning views of Vancouver from the bridge, visit any of the above-mentioned spots. Since some of them are situated outside of the city, it's recommended to pick up a rental car to reach them easily.
Author Bio: Lily Berns is a travel writer and specializes in finding the best and brightest things to do, while you travel in different cities of the world. For the very best deals on renting a car for your trip she recommends rental24h.com